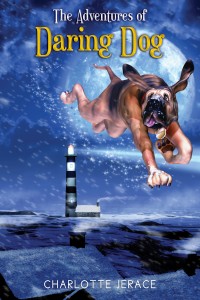 My very first book review!  I was thrilled to read the book review that Bonnie Bowes of www.Momslifesavers.com has written about my book.  Thank you, moms lifesavers!  When I was a child, my favorite stories featured animal adventures.  Dog heroes, like Lassie and Rin Tin Tin held endless fascination for me.  In fact, every once in awhile, when "Come Back Little Sheba" is on television, I will watch it.  And cry!
I've written professionally for many years, helping adults understand their benefit plans where they work.  Although my work was very rewarding and I received many honors, it wasn't quite enough.  t still wanted to write fiction and couldn't wait for the day that I could do it full-time.  The day is here!
A few years ago, I published "Kentucky Rain" which is adult fiction.  I wanted to tell a story that many could relate to, especially dysfunctional families facing modern problems like Alzheimers Disease, substance abuse and sibling rivalry.  I'd heard about a heck of a road trip from Canada to the Kentucky Derby and it gave me a good starting point.  Still, I was drawn to the world of kids fantasy fiction, especially since Harry Potter became so incredibly successful.
"The Adventures of Daring Dog"  is the story that I have chosen to tell.  The seed was sown many years ago when Clover, my golden retriever, somehow wriggled through a small open car window and appeared in front of me and my friends.  We said, "He must have flown!"  That's how it starts, folks. What a wonderful feeling!
JUST IN!  FIVE AMAZON REVIEWS — 
Most Helpful Customer Reviews
Laughed and Cried
By Peggy on June 5, 2014
I love everything about this book: the seaside setting, heroes and villains, hysterically-funny robot, oddball veterinarian, loving father, and especially the enchanting bloodhound. The story deals so beautifully with today's issues and challenges. And who wouldn't love a story about a grieving boy and his dog? Both tender and laugh-out-loud funny, this is a tale for all ages. I'm buying copies for my whole family.
Daring Dog is Magical!
By Catherine Viner on June 2, 2014
A beautiful and moving blend of fantasy and reality about a boy in a wheelchair and his courageous little sneezy bloodhound who can actually fly!! You will laugh and you will cry as you watch them solve mysteries, face bullies and triumph over life's many challenges. Lots of adventure, magic and, all in all, a great read! Kids are gonna love this story!
A very good read!
By Harvey N. Cohen on June 7, 2014
This is an outstanding book! It's a great read for children of all ages.You should get it today before it is sold out!
Perfect for kids of all ages!
By Sunrise 026 on June 2, 2014
This story has it all. A bullied kid and an abused dog find each other. A heart-warming tale of a wheelchair-bound boy who is uprooted from his Boston home after a terrible accident. Life in a lighthouse on the Maine coast is described well, the characters are fascinating and the robot incredibly clever. A great book for summer reading, plus, it is set during Hanukah and Christmas, so it would make a great gift.
Perfect Summer Read for Kids – A True Mom's Lifesaver
By Moms Lifesavers on June 14, 2014
We love this book! It's the perfect summer read for your kiddos!
Growing up in New England and having a dog myself I really enjoyed that Daring reminded me to never give up, no matter what the odds or challenge brings – a welcome message for kids these days.The Adventures of Daring Dog also offers a modern element that young readers can relate to. Sam and his friends deal with bullies, play video games, talk on the phone and text. There is even a 'texting translation' page for reference (I had to use it – haha). Did I mention the life size robot housekeeper? No, well you'll just have to read it to find out about it!
Readers might just find themselves on an adventure that they never imagined.