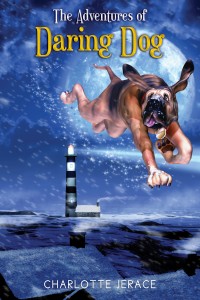 Everything seems good for champion bloodhound Daring when she is first born.  For a  moment.  And then she sneezes.
With her sinuses hindering her tracking abilities, Daring soon drops from prize pup to breeder burden.  Then it goes from bad to worse. She's stolen and mistreated; and when she escapes, a car strikes her and she's left for dead in a hospital parking lot.
But just when all seems lost, Daring is found by a young boy who's experienced more than his fair share of bullying and touch breaks.  Sam and his father rush the wounded dog to an oddball and lovable veterinarian, who works her science while a mysterious goddess works her magic.  After surgery, Daring not only can walk — she can fly!  Now, Daring and Sam can face their challenges and forge their own path together.