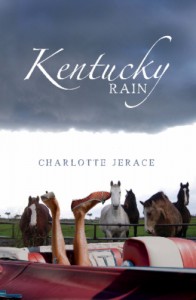 Charlotte Jerace's Kentucky Rain is a warmhearted and witty novel about a genteel Southern woman, who is scheduled to embark on a road trip from Prince Edward Island, Canada, all the way to Louisville, Kentucky, where she will present an old and irreplaceable journal to the city's historical society then fulfill a lifelong dream to attend the Kentucky Derby. But her worsening Alzheimer's disease and the rising family conflict put in jeopardy everything at stake. Jerace's cleverly plotted tale introduces us to a multi-generational, modern-day family, who battle their addictions to alcohol and drugs, alternative lifestyles, sibling rivalry and lack of good communication skills with humorous and sometimes heartbreaking candor.
Amazon Reviews  5.0 out of 5 stars Impressed, May 17, 2014 By Charles Chiodi I, as another author of books (There Is Always Sunshine Behind the Clouds, et al) was impressed Jerace's style. The story flows easily; it is a "hard to put down book." Hopefully, her next book (for children) will be just as good.
5.0 out of 5 stars Elvis, a Road Trip and Humor When It Hurts Too Much, October 1, 2007 By Trey (Atlanta, GA) Like Dickens and other fine writers, Charlotte Jerace figures her readers want some depth to a story's characters, some battles with real life problems and, in the end, a pleasurable conclusion to the world's difficulties. Jerace delivers on all these points in her latest book, Kentucky Rain. In many ways, the novel acts as a valentine to "family" and all that word conjures up for many readers. There are conflicts, sibling rivalries and infidelities. But the book places much more emphasis on forgiveness, reconciliations and good old fashion love — in all its forms. The story revolves around Sophia, a middle-aged woman whose personal history is cleverly and subtly revealed over the course of nearly 300 pages while the primary action of the novel — a road trip with a cast of characters that seem straight from a Fellini film — pushes forward with humor and a light touch from this talented writer. The characters truly seem to be created for the screen, with wonderful visual descriptions and short, snappy dialogue that is reminiscent of Neil Simon's early screenplays. Jerace uses a wonderfully conceived storyline both to entertain the reader and to investigate a variety of issues, some modern while others are classical, life-contemplating stuff. The book is really a nice read. One hopes that Ms. Jerace has chosen her novel's title as one in a series of Elvis-inspired sing-alongs. Help other customers find the most helpful reviews
5.0 out of 5 stars Warm and Wonderful, July 20, 2007 By Will Hugh (New England) – With a light touch of humor this story touches wonderfully on real people facing some of the real truth about life, family and aging. A great read.
4.0 out of 5 stars charming, January 2, 2007 A Kid's Review This is a fast-reading, charming,touching story about family relationships. If you want to read something that has no violence, no intrigue, no mystery, etc., just a light and entertaining book, this is for you.